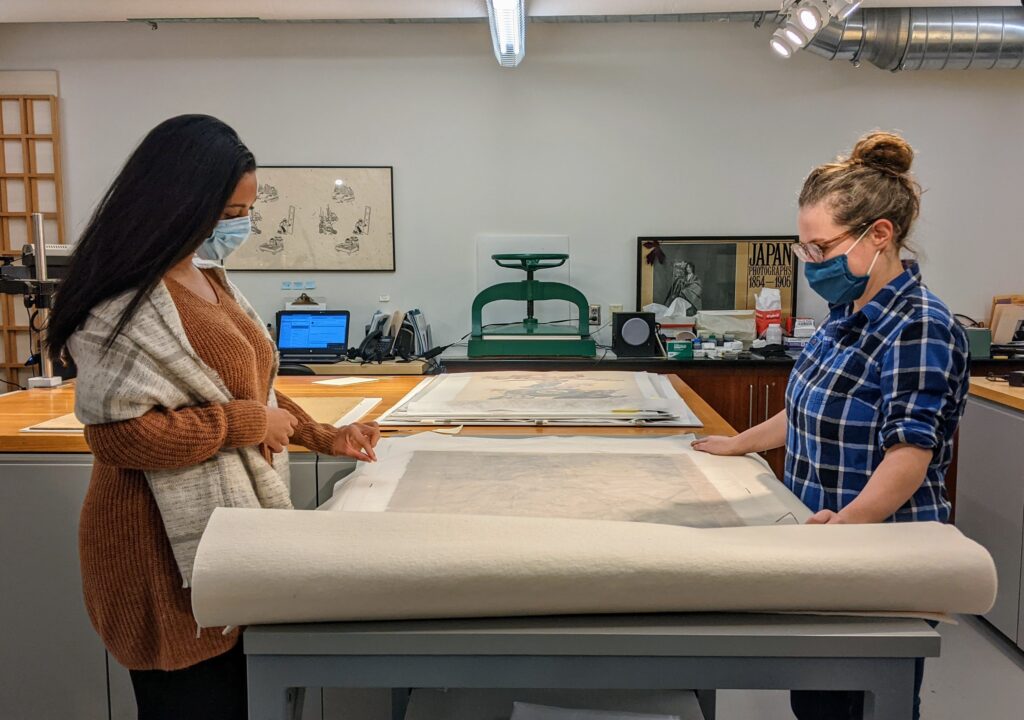 One Year Conservation Fellowship
The Midwest Art Conservation Center (MACC) is pleased to call for applications to a Conservation Fellowship at our facility in Minneapolis, Minnesota. One Fellowship will be offered to a candidate demonstrating strong ties to a Black, Indigenous, or People of Color (BIPOC) community or collection as part of MACC's Mellon-funded Collaborative Conservation Initiative.
This is a 1- year full-time position with a stipend of $40,000 – $50,000, commensurate with experience, plus benefits. The Fellowship will begin in the fall of 2023, and the exact start and end dates are flexible.
This Fellowship is offered in the following specialties:
Preventive Conservation
Objects Conservation
Paintings Conservation
Paper Conservation
Only one Fellow will be selected from all candidates. Please choose one of these specialties and indicate it in your letter of interest. Letters should address the reasons for selecting the specialty, relevant experience, and how the Fellowship will support long-term goals. In all specialties, some regional travel assisting conservators with off-site projects may be included. One of the goals of the Conservation Fellowship is to strengthen Community-Led Preservation activities. Regardless of the specialty, the Fellowship will include a portion of work dedicated to Community-Led Preservation projects.
Preventive Conservation
The Preventive Conservation Fellow will work closely with conservators on a variety of collections care activities including art handling, general collections assessment, conservation documentation, collection database use, and technical research and writing. The Fellow will gain first-hand experience of evaluation techniques and approaches through participation in off-site surveys. This Fellowship may be either all on-site at the MACC facility or partially remote, depending on the selected candidate's needs and preferences.
Applicants for the Preventive Conservation Fellowship should have an undergraduate or graduate degree in-progress or completed in Museums Studies, Conservation, or a related field.
Objects/Paintings/Paper Conservation
The Fellow in Objects, Paintings, or Paper Conservation will work alongside conservators to design and complete in-depth assessments and conservation treatments. The projects are highly variable at MACC, providing opportunities to work with historical and mixed collections, world culture objects, decorative arts, large-scale outdoor sculpture, and modern and contemporary artworks.
Applicants for the Objects, Paintings, or Paper Conservation Fellowship should have a graduate degree in Conservation, or equivalent, in-progress or completed.
MACC is a nonprofit regional center providing comprehensive services in Paintings, Objects, Paper, Textiles, and Preventive Conservation. The staff of conservators is collaborative, collegial, and works innovatively with the curatorial and collection professionals at hundreds of non-profit collecting institutions including fine art museums, historical societies, universities, Native American cultural centers, city governments, libraries, archives, and the public.
The position is open to US citizens (or individuals with legal eligibility to work in the US).
For consideration, please submit a letter of interest, curriculum vitae, and contact information for two references.
Application materials must be received by March 10th, 2023.
Colin Turner, Executive Director
Midwest Art Conservation Center
2400 3rd Avenue South
Minneapolis, MN 55404
[email protected]