« All our conservation treatments
MACC objects conservators examine and treat all three-dimensional works of art and cultural heritage objects. A wide variety of materials are found in the objects lab, including ceramics, glass, metal, painted and unpainted wood, gilt surfaces, leather, feathers, ivory, bone, plant materials, plastic, and other contemporary materials.
Conservation treatments can include cleaning, repair or reassembly, surface stabilization, reversing old and disfiguring restorations, and compensation for loss. In addition to performing in-laboratory conservation treatments, the conservators also conduct object-by-object condition surveys of museum collections and undertake on-site treatments of large-scale works of art.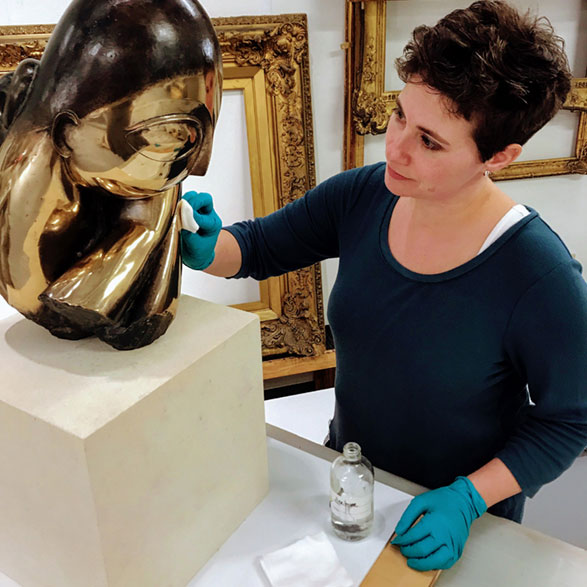 Megan Emery, Chief Conservator and Senior Objects Conservator
Megan Emery joined MACC in 2013 and is the Chief Conservator and Senior Objects Conservator. Megan received her MA in Art Conservation from Buffalo State's Garmen Art Conservation Department. Previously she was objects conservator at the Cincinnati Art Museum and held fellowships and internships at the National Museum of the American Indian, Walters Art Museum, and Poggio Colla Archeological Field School. Megan enjoys working on all types of materials, especially decorative arts, and objects from Indigenous and world cultures. Megan has extensive experience in the management of large-scale conservation projects, including monumental sculpture and murals. Megan is a Fellow of the American Institute for Conservation (AIC), active in AIC's Objects Specialty Group, and a member of the International Institute for Conservation.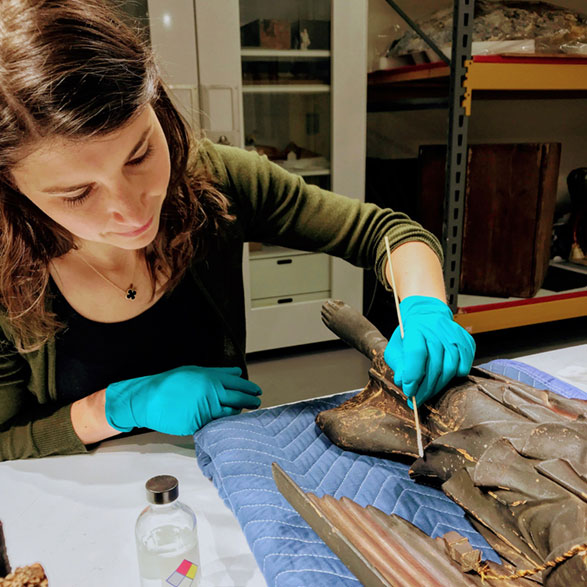 Courtney Murray, Objects Conservator
Ms. Murray joined MACC in 2017, coming from the Denver Art Museum where she worked with an encyclopedic collection of three-dimensional objects. Prior, she completed a Samuel H. Kress Foundation post-graduate fellowship and graduate internship at the Denver Art Museum, and graduate internships at the Royal British Columbia Museum in Victoria, British Columbia and the Toledo Museum of Art. Ms. Murray has extensive experience with a wide range of structures and materials, ranging from archaeological artifacts to contemporary art. Courtney holds a Master of Science in Conservation from the Winterthur/University of Delaware Program in Art Conservation and a Bachelor of Arts in Chemistry from Emory University. She is a Professional Associate member of the American Institute for Conservation of Historic & Artistic Works, and Objects Specialty group.